The importance of claims management and the customer experience is not unique to travel insurance. What is unique about travel insurance is the customer base: on the move, in need of quick responses to get their trip back on track, and often traveling either for business or for pleasure.
As a result, managing claims in a way that accommodates that – meets their needs while complementing their travel experience is a critical part of delivering a positive customer experience.
In part, delivering a travel insurance claims experience that fosters customer loyalty and drives profitability involves taking into account the unique needs of travel insurance customers. But at the same time, many of the key components of a successful travel insurance claims experience are elements that claims organizations of all types should provide to their customers.
With that in mind, this guide will help both travel insurance providers and other types of insurance companies to deliver a world-class claims experience – and to deliver it in an efficient, reliable, and profitable way.
Drawing on Five Sigma's and Faye's shared expertise regarding travel insurance, claims management, technology, and more, this guide will provide useful insights and suggestions on key ways to modernize and enhance the claims experience.
Download the guide to learn:
Why it's critical for travel insurers (as well as other insurance companies) to offer a top-notch customer experience.

Why claims management plays a critical role in shaping that customer experience.

What the essential components of a successful travel insurance claims experience are.

How to use innovative technologies to make sure each customer's claims experience includes these critical elements.

Why data-driven innovation is a win-win for travel insurers and consumers.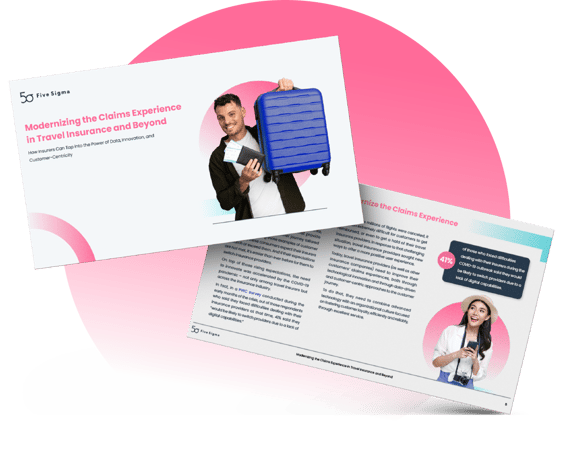 Download your free report