In the past year, insurance carriers have faced unprecedented challenges. Amid rising inflation and mounting costs, an increase in natural disasters, along with lingering effects from the COVID-19 pandemic, insurers are under immense pressure to lower loss ratios and reduce Loss Adjustment Expenses (LAE).
These challenges hold particular significance for claims organizations, given the massive impact they have on these KPIs. While historically this field has been hesitant in implementing innovative technologies, its data-driven nature presents numerous opportunities for automation to streamline and improve key insurance processes.
To better understand these trends and the state of claims intelligence in 2023, we surveyed 100 senior P&C insurance leaders.
Here are some of our key findings:
Automation Takes Center Stage: 58% of insurers believe automating the claims journey can significantly enhance efficiency and accuracy in claims processing.

Cloud-Based Solutions Gain Traction: 63% of carriers plan to replace their claims management systems with cloud-based solutions by 2026, marking a clear shift towards in-house, digital-first claims management.

Real-Time Reporting Is Essential: The top challenge in 2023 is the lack of real-time reports to help insurers manage their claims operations effectively.

Data and Analytics Are Critical: A whopping 87% of respondents consider data and analytics "extremely" or "very" important in claims management, emphasizing the crucial role of data-driven decision-making.

Investment in Claims Management Continues to Grow: Despite current economic market conditions, budgets for claims management solutions are on the rise, as insurers recognize the value of strategic investment in this area.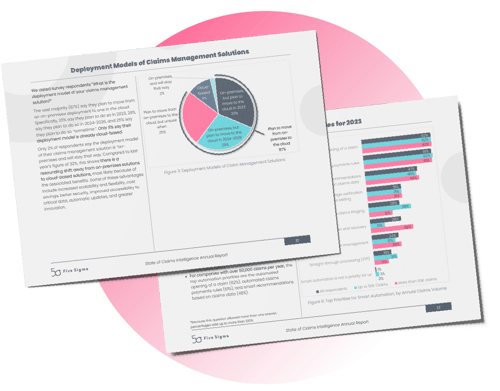 Download your free report